Unique protective crystal coat / ceramic paint protection bonds to become the new surface layer of your car giving unrivalled UV resistance, dirt repellency, easy clean and swirl resistance. A highly effective coating for all types of fabric is applied, creating a tough, hydrophobic barrier, protecting against bacteria, spills and stains.
Glass treatment highly increases water repellency, causing moisture to bead, creating a non-stick, water-repellent barrier. Wheel sealant provides a unique chemical bond to become the functional surface of your rims making them dirt and brake dust repellent as well as being much easier to clean.


Many people fall into the trap of having dealer protection (ceramic coating) added, such as "Diamond Brite", "Supa Gard" or "LifeShine". Unfortunately, these products are rarely applied correctly by the dealership valeters, resulting in the customer falling under the false assumption their vehicle is protected. A Gtechniq protected car outperforms the more traditional dealer applied protection systems hands down.
With the new car registration beginning in March/September, there is never a better time to protect your investment with a VRS Car Protection Package. This guarantees your vehicle has the very best protection possible, using the highest quality products. Each service and product are of equally good quality and carefully selected.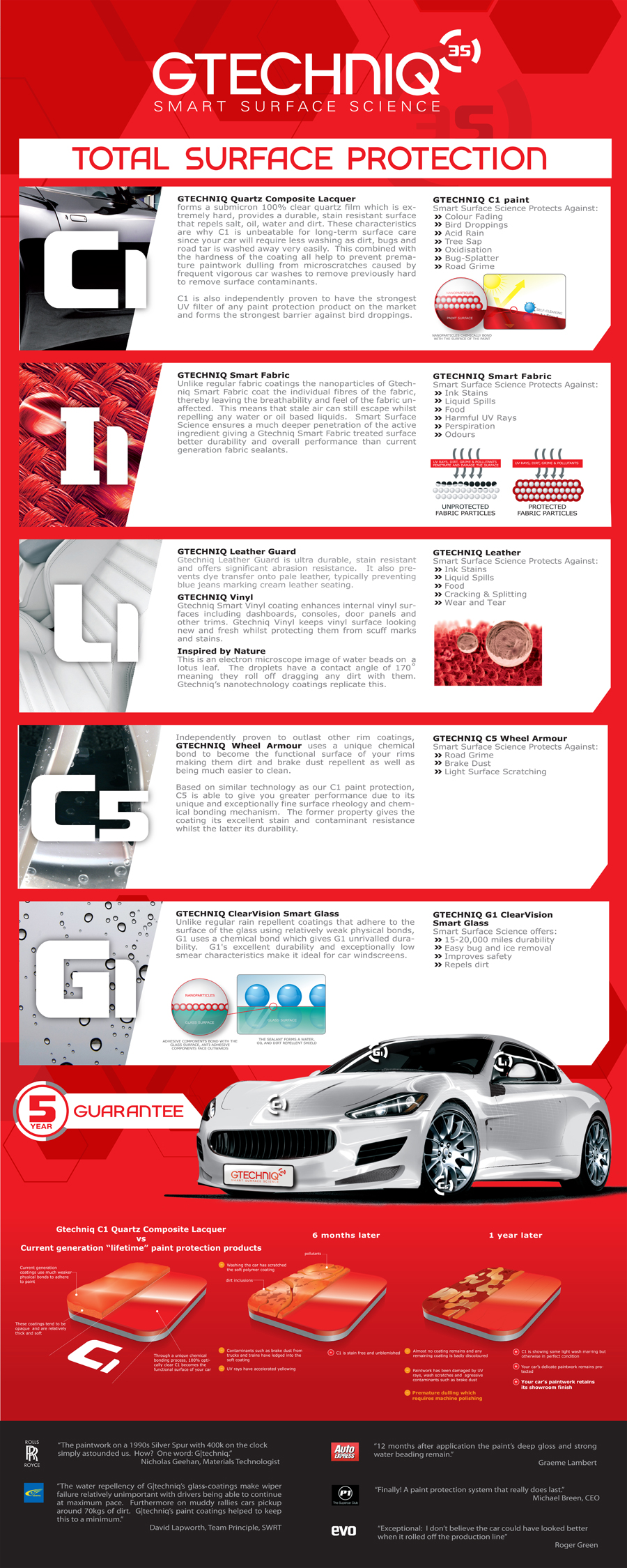 Swissvax Protection Package
Paint, Glass, Wheels & Fabric Protection System
£100 / 4 x 4 £120 /Van - £130
Cquartz plus ReLoad Protection Package
Paint, Glass, Wheels & Fabric Standard Protection System
£200 / 4 x 4 £240 /Van - £260
Gtechniq TSP (C1 Crystal Laquer) plus EXO Hydrophobic Coating Protection Package
Paintwork, Glass, Exterior Trim, Wheels, Leather Seats, Carpets, Door Cards and Dashboard Premium Protection System.
5 years - 7H hardness (swirl resistance)
£300 / 4x4 £350 / Van £395
Gtechniq TSP (Crystal Serum Light) plus EXO Hydrophobic Coating Protection Package
Paintwork, Head Lights and Tail Lights, Glass, Exterior Trim, Wheels, Exhaust Tips, Engine Bay Plastics, Leather Seats, Carpets, Door Cards and Dashboard Pinnacle Protection System
5 Years - 9H hardness (swirl resistance)
£399 / 4x4 £475 / Van £519
Why use Gtechniq C1 Crystal Laquer and Exo Ultra Durable Hybrid Coating? 
C1 has been independently proven in the world's most respected weathering facility. It offers the best gloss retention of any other product tested. Over a simulated run of 3 years in Arizona sunlight, a C1 coated panel lost half the amount of gloss than its next best competitor, and a third less gloss than the average score for all other products tested. C1 is proven to last up to 10 times longer than dealer applied sealants.
As well as gloss retention C1 Crystal Lacquer is extremely durable, as it actually becomes the functional surface of a car's paintwork. Also scratch resistant, C1 forms a crystalline film which is extremely hard (*7H-100 Absolute Hardness), this characteristic makes it effective at preventing minor scratching from poor wash technique on relatively soft automotive paint with incredible durability of a minimum of three years.
C1 coated panels have been tested against uncoated panels, as well as high-end carnauba waxes and polymer sealants.
On average, panels coated with Gtechniq C1, exhibited 50 percent less swirl marks than those coated with waxes or left uncoated.
EXO is Gtechniq's ultimate hydrophobic coating – it simply out-beads any other products on the market, providing a lotus leaf effect which repels dirt and water ensuring your vehicles surface stays cleaner and glossier for much longer.
Based on the next generation of inorganic-organic hybrid materials EXO embodies Gtechniq's goal to offer products that work harder and smarter, meaning more time enjoying your car and less time maintaining it.
EXO offers the ultimate dirt and water repellency (it has a contact angle of 110 degrees), is resistant to regular wash chemicals and have durabillity of two years
Gtechniq Crystal Serum Light
Gtechniq Crystal Serum Light, the latest ceramic coating from Gtechniq forms an ultra-durable, high-gloss, slick to the touch, chemically bonding inorganic layer of optically clear ceramic. Offering state of the art paint protection technology. Crystal Serum Light has superior resistance to scratching (*9H - 400 Absolute Hardness) with incredible durability of a minimum of three years.
Once applied, gloss levels will remain in the upper 90th percentile for significantly longer when compared to traditional paint protection products, and cleaning your car will be much easyer.
The high density ceramic layer is resistant to chemicals ranging from pH2 - pH12. This characteristic also makes bonded contaminants such as tree sap, tar, and hard water spots very easy to remove.
Cquartz is an anti-static, weather resistant Nano coating that shines and protects your vehicle. 
CQuartz works on the molecular level to transform the surface. Once treated with CQuartz, your vehicle will repel water and contaminants, and it will maintain a clear, reflective, hard-as-nails shine.
CQuartz Paint Protection creates an ultra durable surface that minimizes paint maintenance for up to two years. A CQuartz-treated vehicle stay cleaner longer and require less frequent polishing.
Cquartz offers water contact angle of 110 degrees and and durability of two years.
Before the application of any of protective packages, interior and exterior surfaces have to be prepared. That may include paint correction, polishing, de - waxing, decontaminating, removing oils and cleaning the vehicle inside and outside in order to apply products correctly. Each package contains decontamination wash & vacuum plus 50% reduction applies to Paint Rejuvenation Services and 30% to VRS Interior Valet.
* H - hardness scale characterising scratch resistance. 7H-100 Absolute Hardness (Quartz, Steel Knife, Porcelain Tile). 9H - 400 Absolute Hardness (Sapphire, Masonry Drill Bit, Ammunition). 10H - 1600 Absolute Hardness (Diamond)
Call us today on
0800 002 9083

or Email us at

info@vrsspecialists.com

To discuss any of the above options